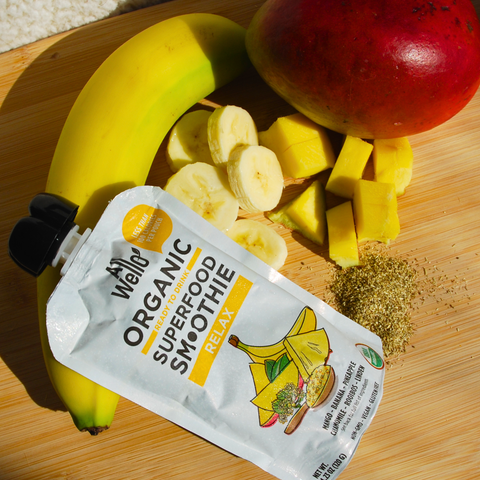 Allwello Organic Superfood Smoothie
De-Stress with Our Relax Superfood Smoothie
AllWellO Organic Relax Smoothie, 4.32 OZ (120 G), Real Fruits and Vegetables
Relax and unwind with our delicious superfood smoothie pouch. Made with a delightful blend of mango, banana, and pineapple, our pouch also features lemon verbena, rooibos, chamomile, and linden to help you destress. Perfect for those busy or stressful days, our smoothie pouch is the perfect addition to your relaxation routine to bring calm in.
KEY FEATURES

Calming and Relaxing - Chamomile, Rooibos, and Linden to bring the peace in. 
Vegan, gluten-free, dairy-free and all ORGANIC ingredients.
Only 60 calories per pouch.
PRODUCT DETAILS
Available as a 7-Pack  (4.23 oz pouches)
Organic
Ready-to Drink
Gluten-Free
Vegan
Lactose-Free 
INGREDIENTS
Organic Mango Puree, Organic Apple Puree,­ Organic Banana Puree, Water,­ Organic Pineapple­ Juice Concentrate, Organic Lemon Juice Concentrate, Organic Agave Syrup, Organic Quinoa Flour, Organic Vitamin C, Organic Lemon Verbena Powder, Organic Rooibos Powder, Organic Chamomile ­Powder, OrganicLinden Powder.
Serving Size: 4.23 oz (120 g)
Calories - 60 | Sugar - 13g (Includes 2g natural sugar added)
Legal Disclaimer: Statements regarding dietary supplements have not been evaluated by the FDA and are not intended to diagnose, treat, cure, or prevent any disease or health condition.